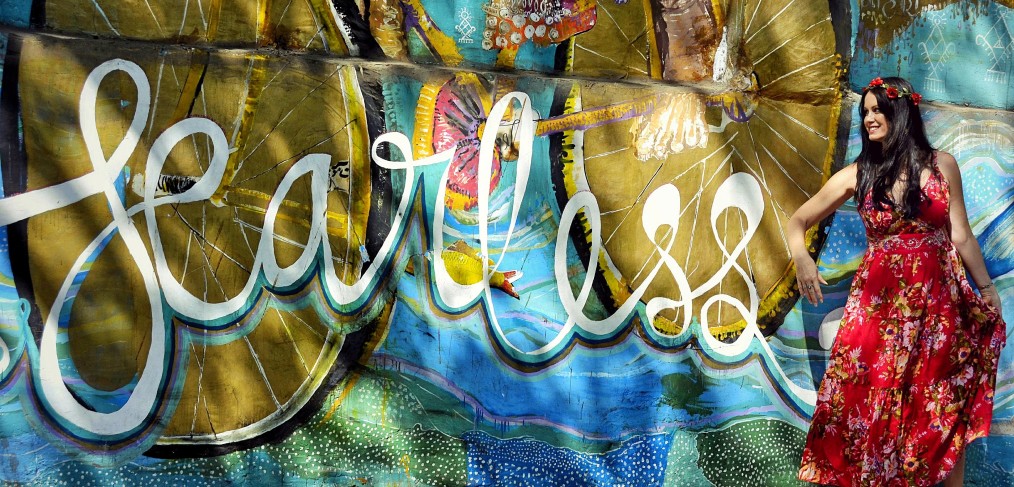 The Fearless Collective: Fearless in Mumbai
Recently, a friend of mine was exploring Mumbai when she unexpectedly discovered a magnificent mural. Located in Colaba, on the main road just past Sassoon Dock, it was painted by members of the Fearless Collective.
This huge group of passionate artists, photographers, filmmakers and activists was formed by award-winning artist Shilo Shiv Suleman in response to the horrific gang rape that happened in Delhi in 2012. The group uses art as a medium to speak out about violence against women and the sense of fear surrounding it, and bring about social change.
The community murals, painted on walls all over India and Pakistan, aim to convey empowering affirmations of fearlessness and encourage women to live without fear. The glorious mural near Sassoon Dock is dedicated to women of the koli fishing community and is captioned with "आज़ाद" (azaad), meaning independence. These formidable women, who can frequently be seen out earning a living for themselves, are known to be fierce yet humorous.
My friend shared a photo of herself posing in front of the mural and there was something very evocative about it. It powerfully spoke to me and beckoned me. I loved its whimsical design and its message. I felt I needed to do justice to such a masterpiece though. It wouldn't be sufficient to casually go and stand there (and strike my usual staid grin at the camera pose).
I contemplated, what did I want to portray? What does being fearless mean to me? What makes me fearless?
I concluded that it's a combination of factors. Embracing new experiences, recognizing my capabilities, and throwing myself out of my comfort zone makes me strong. Relying on my trust and intuition helps me know that everything will be okay. And, being able to defend myself means I don't feel helpless.
But what to wear?
As the mural is about female empowerment, I decided on a long flowing dress and flowers to reflect femininity. Red, of course, is the color for photography. It's bold and stands out.
And so, this is my interpretation of fearlessness.
Simply taking these photos turned out to be an act of fearlessness in itself, as I quickly amassed an audience of about 30 men, women and school children. Disturbing for me, as I don't like being the center of attention (and much prefer to be behind the camera than in front of it)! I wanted to take some time to explain to them why the mural was there and what I was doing. Just seeing the expressions of the beautiful children in these photos makes me hope that they never lose their joie de vivre and remain fearless!