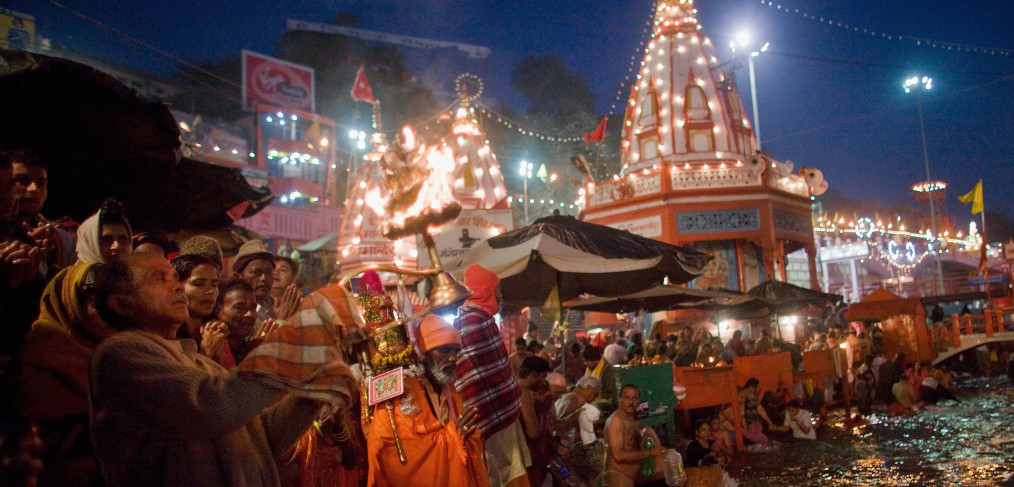 The Profound Power of the Haridwar Ganga Aarti
It was nearly 7 p.m. Darkness had almost completed its descent. I unsteadily stood on the lower step of the main ghat, Hari-ki-Pauri, at Haridwar with the holy water lapping at my feet. Apparently, Lord Vishnu and Lord Shiva had also once stood there, leaving their footprints behind.

My dupatta (scarf) was wrapped around my head and I was adorned with the marks of having received a pandit's blessing — red thread on my left wrist and red kumkum powder on my forehead. It was a spiritual circus and I was in the thick of it. Surrounding me were hundreds of people, pundits (Hindu priests), sadhus (Hindu holy men), beggars, idols of various gods, loud speakers, clanging bells, singing, incense, flowers, and then flames. Huge flames! Right in front of my face.
Ancient Haridwar is one of the seven holiest places in India, and one of the oldest living cities. Situated on the banks of the Ganga (Ganges) river at the foothills of Himalaya mountains, its name means "Gateway to God".
Legend has it that Haridwar is one of four places in India where drops of scared amrit (the nectar of immortality) fell while being carried by the celestial bird, Garuda, during a battle for it between the gods. Taking a dip in the Ganga river at Haridwar is believed to wash away sins, and purify body, mind and soul. Every evening along the riverside, an aarti (worship with fire) is performed in honor of Goddess Ganga, the goddess of the river. Lamps are lit, prayers are offered, and small candles are floated down the river.
The fire was so bright it almost blinded me, and the searing blanket of heat made me want to step back. But there was nowhere to go. People were madly scrambling forward for the chance to hold the burning lamp. Even just to lay a finger on it. I started getting anxious and claustrophobic. The step was slippery. What if I lost my balance and fell into the water? Although taking a holy dip is considered to be auspicious, I wanted to do it on my own terms.
Then, the pandits started loudly and rhythmically chanting. The burning lamps hypnotically moved around and around in circles. And I was carried away with the energy of it. A ritual so sacred and holy, so powerful, and one that was such a mystery to me. I trembled as gazed around, then closed my eyes and breathed in deeply.
I'd gone to Haridwar with the hope of having a spiritual experience, an uplifting experience of feeling connecting to a higher power. And on the edge of the fast flowing Ganga river that night, I certainly had one. It left me feeling tangibly shaken, awe-struck, and full of wonder. A divine ritual right at the core of India, it was a potent reminder of why I was attracted to India in the first place, over a decade ago. Later that night, I took my holy dip at the private ghat of our hotel. Three times under the chilly water to complete the process. I was cleansed!
(Visited 465 times, 1 visits today)